HOME > Master's Course >Architecture

Architecture
Architecture is a human-oriented field concerned with buildings and their surrounding environments, covering topics ranging from safety to amenity, convenience to art. Education and research in architecture is roughly divided into the fields of planning, environment and facilities, structure, and production.
An applicant for Architecture needs to have a desire for the deep pursuit of the subjects in each of these fields. To understand such a grand system as architecture in terms of time and space requires an ability to integrate the different fields, as well as a sense of balance.
Educational Goals
The basic policy is to instill in students the skills of applying advanced expertise, developing new technologies, guiding people, making comprehensive judgment from a wide point of view, and tackling creative activities. At the same time, the policy is also to teach in-depth technical knowledge of architecture in the fields of architectural planning, design, structures, materials, environment and facilities, architectural history, urban planning, architectural production, and architectural conservation and disaster prevention.
Educational Characteristics
Architecture Course
This is the main course in Architecture. Many high-level curricula are prepared in the technical fields of planning, environment and facilities, structures, and production. We support specific learning and research in each field and also compound learning and research across fields. Architecture is tackling education and research with excellent teaching staff covering many fields in architecture, including four winners of the Academic Works Award from the Architectural Institute of Japan, and others greatly experienced in practical design.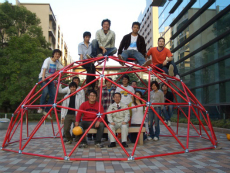 The building model of Fuller's geodesic dome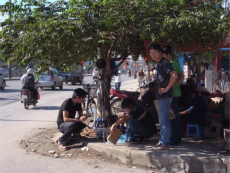 Measurement of the road traffic noise in Hanoi, Viet Nam
Architectural Design Course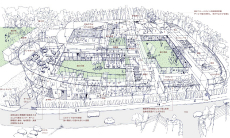 Design proposal work
This course is dedicated to architectural design. The curricula are designed to cultivate and implement concepts of great creativity related to design by giving practical knowledge and skills. One of the features is that a master's design is examined and evaluated instead of a master's thesis. This is a next-generation architectural course aiming at certification based on UIA and other global standards.
Architectural Urban Culture Course
This course is for a small number of students, such as graduates from non-architectural fields and people working in society. By considering students of various backgrounds, we teach a broad expertise in the fields of architecture and architectural urban culture, including the latest knowledge, to cultivate academic masters. While the Architecture Course requires two-year research for master's thesis to cultivate practical engineering masters, this course requires only one-year of research, which is done by placing a priority on lessons.
Classes
Architecture Course
Research Practicum in Architecture and Building Science I
Research Practicum in Architecture and Building Science II
Research Practicum in Architecture and Building Science III
Research Practicum in Architecture and Building Science IV
Architectural Design Course
Architectural studio work II
Architectural studio work III
Architectural studio work IV
Master's Project
Architectural Urban Culture Course
Basic subject of architecture, cities and culture, No.1
Basic subject of architecture, cities and culture, No.2
Basic subject of architecture, cities and culture, No.3
All Courses
Advanced Steel Structure
Joint Design for Steel Structures
Reinforced Concrete Structure
Concrete Building Structure
Plastic Analysis of Structures
Advanced Analysis of Frame Structures
Building Material Design
Studies in Building Materials
Advanced Structural Design
Selected Topics in Timber Materials
Advanced Interface Mechanics
Selected Topics
Seminar on Structural Engineering I
Seminar on Structural Engineering II
Seminar on Structural Engineering III
Advanced Building Physics I
Advanced Building Physics II
Advanced Building Physics III
Architectural Environment I
Architectural Environment II
Architectural Environment III
History of Japanese Architecture
Selected topics of architectural history of western world
Advanced Architectutal Planning
Strategies for Building Information Management
Analysis on Urban Structure
Policy and Practice of Urban Planning
Architectural Space Composition
Planning and Design Studio for Historic Enviroments I
Planning and Design Studio for Historic Enviroments II
Practice of History of Architecture I
Practice of History of Architecture II
Survey and Research of History of Cities
Architectural Details I
Architectural Details II
Seminar on Facility Management
Seminar on Landscape Conservation and Renovation
Workshop on Digital Techniques for Spatial Analysis
Workshop on Digital Techniques for Planning and Design
Design Practice in Architectural Program
Architectural Presentation
Architectural Design Practice I
Architectural Design Practice II
Architectural Design Practice III
Architectural Business Training
English Communication