HOME > Master's Course >New Frontier Sciences

New Frontier Sciences
New Frontier Science originated at Kumamoto University from a unique fusion of science and engineering. This interdisciplinary field provides a variety of educational and research opportunities to students who are interested in advancing both science and engineering. We are looking for students who are eager to open up new interdisciplinary research fields and to contribute to the welfare of humankind through the advancement of sciences and engineering.
Educational Goals
New Frontier Sciences provides various educational opportunities in cutting-edge and interdisciplinary academic fields, including High-Pressure Shock Compression Science, Bioelectrics, Mitigation Technology for Environmental Problems, and Hydrological Sustainability Science. Our aim is to create an environment in which students develop their creativity, originality and global thinking in order to cultivate new academic areas. We assist our students in understanding cutting-edge sciences and technologies through a series of seminars and lectures in English in collaboration with faculty from a wide range of research fields so that students are able to obtain interdisciplinary views on various research fields. Through extensive classroom discussion in our educational program as well as participation in domestic and international academic conferences, students can learn effective ways to conduct research and to improve their communication skills. Students in the Master's Course of New Frontier Sciences are expected proceed to the Doctoral Course of New Frontier Sciences to further continue their activities.
Educational Characteristics
High-Pressure Shock Compression Science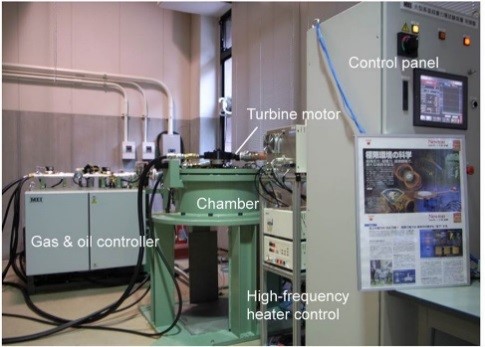 High-temperature ultracentrifuge for the materials science research under a strong gravitational field.
The Division of High-Pressure Shock Compression Science concentrates on intense research in ultra-high pressure physics, discovery on new materials and properties, materials processing, advanced manufacturing by the employment of various extreme conditions such as shock compression, static compression, strong gravitational field, explosion, pulsed laser, etc. We endeavor to expand our knowledge and technology of those extreme conditions and to apply them to condensed matter physics, development of new materials, nano-technology. Earth and science, environmental resources, food processing, etc.
Bioelectrics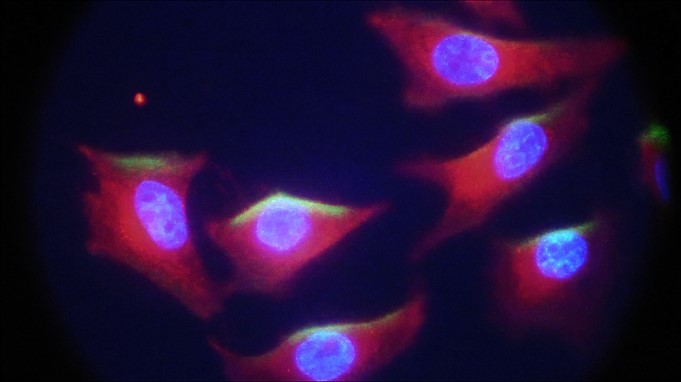 Typical Ca response to a nanosecond intense electrical pulse in mammalian cells(HeLa)
Bioelectrics is a unique, pioneering interdisciplinary research area which studies the effects of pulsed power on living organisms. The Division of Bioelectrics utilizes various forms of pulsed power including nanosecond pulsed electric fields, plasma discharge, and shock waves, as well as supercritical fluid technology. We perform extensive research using animals, plants, and bacteria to explore possible application of pulsed power to medicine, agriculture, food processing, and environmental sciences.
Mitigation Technology for environmental Problems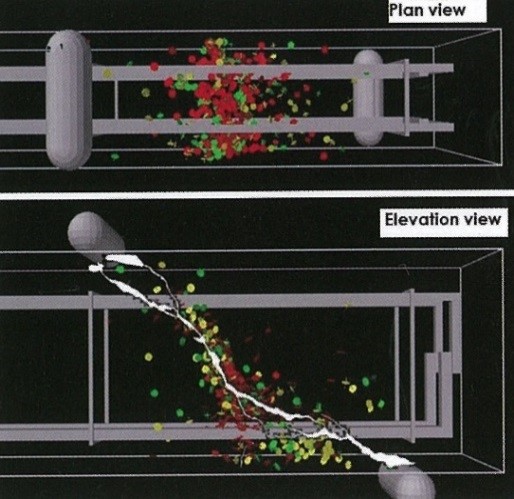 Crack kinematics identified by AE-SiGMA analysis in reinforced concrete
In the Division of Mitigation Technology for Environmental Problems, we focus on technical developments associated with nondestructive evaluation of solid materials, demolition and recycling of concrete waste through pulsed-power energy, purification techniques for polluted gas, water and soil by means of pulsed-discharge plasma, waste disposal and materials synthesis using the supercritical plasma-reactor, efficient energy-generation and energy-saving in power devices by use of integrated semiconductor circuits, and production of new magnesium-alloy with long-period layered structure.
Hydrological Sustainability Science
Deep Groundwater System in the Kumamoto Plain Estimated by Magnetotelluric Survey (Green and blue colors indicate low and high resistivity zones, respectively)
In the Division of Hydrological Sustainability Science, our research ranges from the basic science to the applied engineering relating to the reconstruction of the disturbed hydrological system into a sustainable system by solving various environmental water related problems. We strongly proceed the advanced research relating to the understanding and evaluation of hydrological system including coastal discharge, bioremediation technology and water contaminants and biological monitoring science.
Classes
Pulsed Power Technology
Advanced Technology of Power Electronics
Controlled Failure Technology
Biological and Bio-inspired Chemistry
Fundamentals of Groundwater
Extreme-Condition Materials Science
Pulsed Power in Life Science (I)
Pulsed Power Technologies in Medical Science
Supercritical Fluid Environmental Science
Advanced Nano-Bioelectronic Devices
Discharge Plasma Science
Water Environment Analysis
Monitoring Technology of Water Environment
Short Course for New Frontier Sciences
High-Energy Density Science
Chemical and Plasma Conversion for Nano- and Micro-structured Materials
Extream-Condition Materials Processing
High-rate Processing of Materials
Bioelectrics
Pulsed Power in Life Science (II)
Advanced Pulsed Power Technologies in Medical Science
Molecular Biology in Extreme Environment
Pulsed Power Based Green Technology
Nondestructive Inspection
Light Alloys
Fundamental course in Nano-Bioelectronic Devices
Technology for Water Purification
Aquatic Environmental Biology
Groundwater Management
Practice of Groundwater Management Policy
Advanced Applied Microbiology
Neuroendocrinology
Suprastructural Chemistry
Interdisciplinary Experiments
Internatinal Advanced Joint Training for Young Researchers
Patent Laboratory
Business English
International Internship
Special Research on Frontier Science
Special Research on Frontier Science