Message from the Director
Message from the Director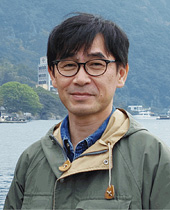 Director of GJEC
Sadahiro Tsurekawa
 The Global Joint Education Center for Science and Technology (GJEC) was established within the Graduate School of Science and Technology (GSST) in April 2007 with the aim of globalizing graduate school education and cultivating innovative expertise. In an effort to train people capable of solving problems creatively from a bird's-eye view, as well as having a high level of expertise and logical thinking ability, the GSST was reorganized in April 2018. Because various leadership qualities need to be cultivated in today's diverse society, the GJEC now offers three educational programs and three courses (subject groups). Two courses, "Advanced Science and Technology" and "Advanced General Education," provide more of a bird's-eye view form of training, while the other course, "English Education," enables students to acquire English-language skills that are essential in the field of science and technology.
 One of the three educational programs is the "Innovation Leadership Program," which includes the Management of Technology (MOT) Special Education Program to enable students to develop business models and management skills. The second program is the "Aim-High Program," which includes two courses, one for aspiring academic researchers, the "Researcher Training Course," which caters for doctoral staff in universities/research institutes, and the other for aspiring industry researchers, the "Industry Collaboration Course," which is aimed at business people who are leading innovation processes. The third program is the "International Joint Education Program for Science and Technology (IJEP)," which enables students to acquire a degree in English. There are detailed selection criteria and various other requirements for prospective program participants; please check the program web pages for details.
 The GJEC offers a new educational system that can provide training in various values, a bird's-eye view, and an international way of thinking beyond traditional graduate education. It is extremely important to have a high level of expertise and a broad perspective if one is to provide leadership over the long term given today's rapid pace of social change. The educational programs offered by the GJEC enable students to meet these demands. We sincerely hope that you will consider studying at the GJEC.