Message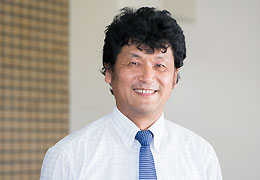 A Quest for New Developments in Science and Technology Research
The Graduate School of Science and Technology (GSST), an institution that had covered both education and research, was reorganized in April 2016 into two separate organizations. The Graduate School of Science and Technology remains as an organization centered around education, and the newly created Faculty of Advanced Science and Technology (FAST) focuses on faculty research. Dividing the graduate school into these two highly specialized organizations allows FAST to pursue new and lofty research goals with the high degree of flexibility afforded by its streamlined organization.
FAST is composed of the following four divisions, which are further subdivided into specific fields of research:
Natural Science

Mathematics
Physics
Chemistry
Earth and Environmental Science
Biological Science

Materials Science
Energy Science
Environmental Science
FAST is organized so that faculty in different fields can cooperate on interdisciplinary research and develop innovative research themes. The overarching goal of these divisions is to create an academic research center equipped with pioneering basic sciences and advanced applied technologies that contributes to an ecologically and economically sustainable society. This synergistic collaboration between science and engineering generates the pioneering research and applied technologies that our society demands, and the unique, agile nature of our organization engenders the discovery of new scientific knowledge and innovative technologies.
Tsuyoshi Usagawa, Dean of the Faculty of Advanced Science and Technology